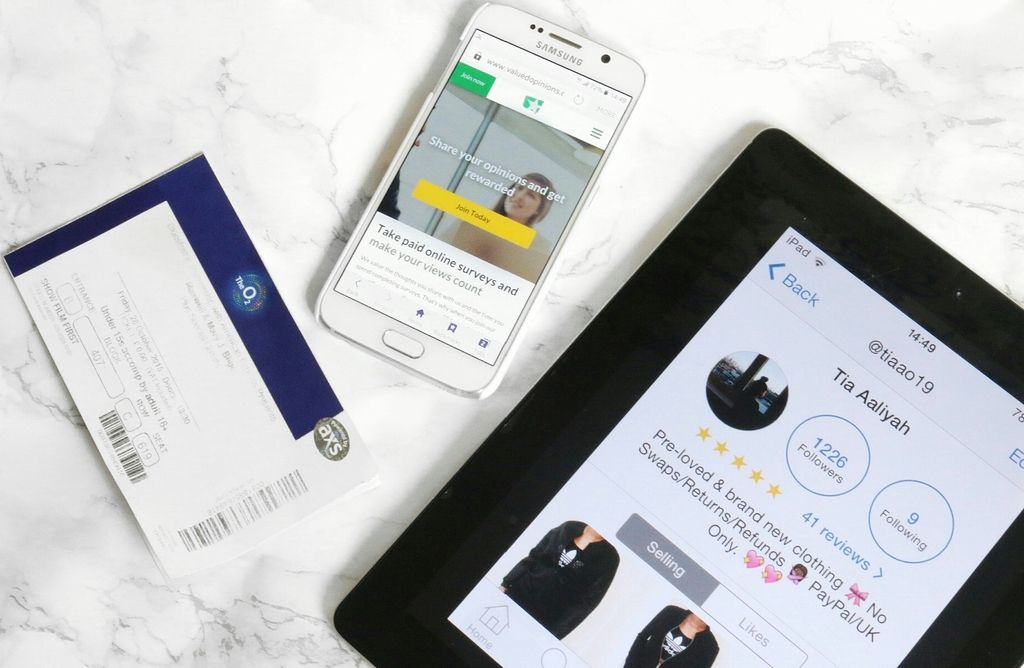 Everybody loves having money & nice things. Don't we all love a new product to try out or something for free every now and then. So I've decided to put together a post of easy ways to save money & get a few freebies along the way...
Being paid to fill out surveys. How much easier can it get. I know regularly we see YouTubers advertising Opinion Outpost which gets annoying but honestly these things do exist. I use ValuedOpinions & Crowdology website where you answer surveys on anything from travel to food to products and you are rewarded for each one you complete. When you make a certain amount you can start redeeming rewards; vouchers from Topshop, Boots, Amazon, John Lewis etc.. or on Crowdology you can cash out to Paypal for as little as £4. The more you participate the more surveys they'll send.
Google Opinion Rewards in the same way rewards you when you answer surveys which take less than a minute and gives you credit on your Google Play Account.
2. Open a savings account....& do it right!
I feel like saving money is a skill, a skill I have become very good at. Ever since I was in uni I learnt how to save & have been quite successful. I have nothing to save for but you never know when you might need some spare cash.
Tip 1: Open a savings account , especially in uni instead of getting a student account. You don't NEED an overdraft. Unless money is really that scarce but even then the bank is not the place to get money from unless it's your own.
Tip 2: Pay yourself first. I read this line in the 'Rich Dad Poor Dad' book and it's so true. When I got my student loan or now my wages I pay what I'm saving into my savings account before I deduct bills. I usually half my income (if possible) and then budget from what I have left.
Tip 3: DO NOT get a savings card. Nowadays most banks have apps so you can view & transfer money to your savings account without having to go into a bank. A savings card may only entice you to draw money out and use it when you don't need to.
This site is great for film lovers or people who like to be spontaneous and try new things. ShowFilmFirst is basically a site that gives members free tickets or special offers to see movies,shows, events sometimes before they've been released. It's mainly for the film makers/ show creators to get a bit of feedback beforehand and you get to enjoy it without having to spend a penny...apart from on the snacks you'll be diving into. I used this site to go and see the Nelson Mandela movie 'Long Walk To Freedom' & Mary J Blige/Maxwell concert. Membership is free, they usually send a pin to your email that you enter on the site to get your tickets. Locations vary.
4. Sign up to freebie sites
There are tons of freebie sites online, not all you can trust, but the ones you can offer great samples. Free makeup, food & perfume samples etc. The ones I normally follow are MagicFreebies, LatestFreeStuff & WowFreeStuff. I'm the biggest fan of freebies so these sites are my fav!
5. Buy (and sell) on eBay & Depop!!
Last but not least....the plug! eBay or eBae even. I swear this site is soooo underrated. I get so much from here; La Girl Pro Concealers, Chokers, Phone/Camera accessories, Rings, Clothes...you name it I've bought it from there probably. You can save so much money checking eBay before you go online or instore on the high street. Depop is just as good for second hand or brand new buys but also is great for selling things really easily, think of Instagram meeting eBay. Super easy & a great way to make money on the side. Check out my Depop page: tiaao19
That leaves more money for you to spend on fun things & experiences. How about that!

"A Penny Saved is a Penny Earned"
― Benjamin Franklin